Collective cell dynamics in cancer and homeostasis
Dr. Andrew Clark, Junior Group Leader, Institute of Cell Biology and Immunology, Stuttgart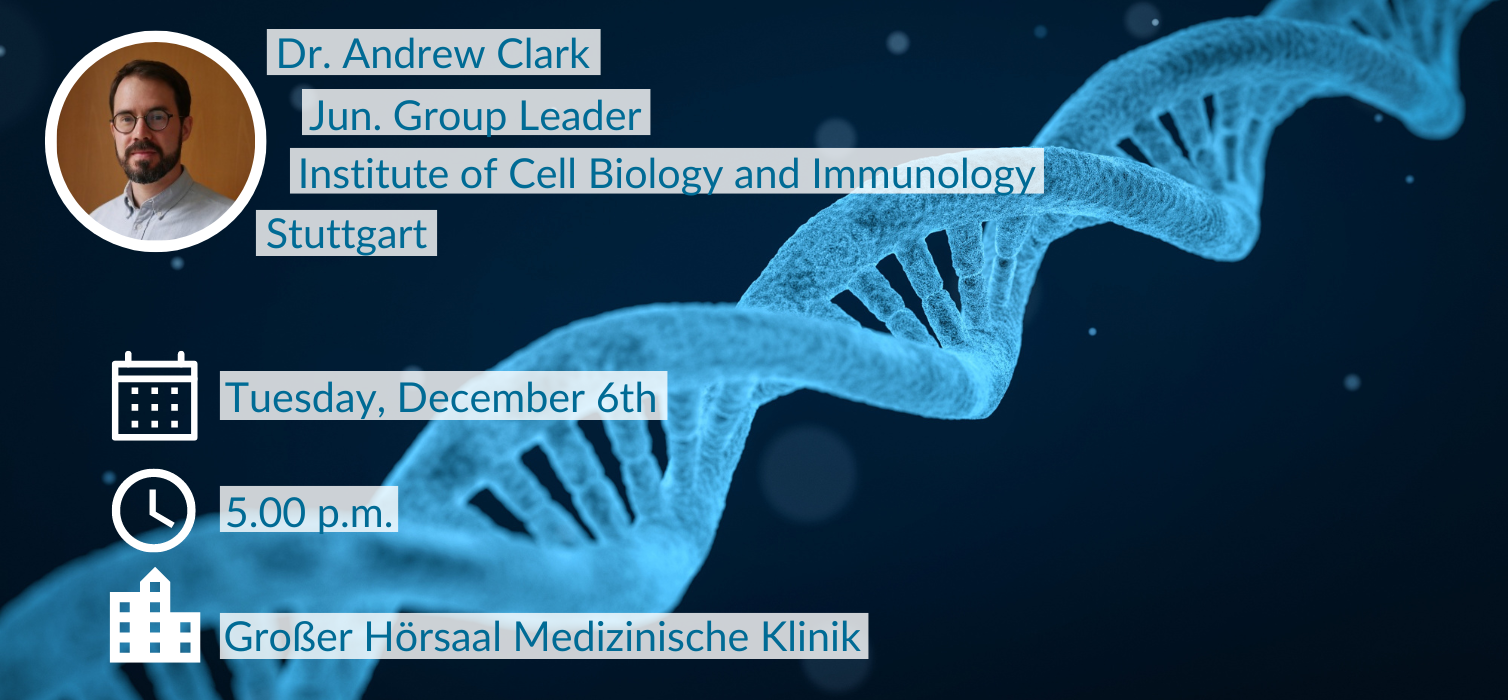 We are pleased to announce a lecture by Dr. Andrew Clark, Junior Group Leader, Institute of Cell Biology and Immunology, Stuttgart
The lecture is part of our lecture series focused on our new research institute M3.
The talk title will be: "Collective cell dynamics in cancer and homeostasis"
Andrew received his Bachelor's degree in Molecular Biology from the University of Wisconsin-Madison and studied epithelial wound repair in the lab of Bill Bement. He then moved to the Max Planck Institute for Molecular Cell Biology and Genetics in Dresden, where he did his PhD studying the organization and mechanics of the cellular actin cortex in the lab of Ewa Paluch. Following a short follow-up postdoc at University College London, he moved to Paris to do a postdoc at the Institut Curie in the lab of Danijela Matic Vignjevic. During his postdoc, Andrew studied collective cell migration in a number of contexts, including using microfluidic devices to study collective chemotaxis, mechanical interactions between cells and ECM networks during migration and collective migration in the intestinal epithelium. Andrew started his own group in May 2021 as a joint position between the University of Stuttgart, Institute for Cell Biology and Immunology and the University of Tübingen, Center for Personalized Medicine, where his lab studies intestinal epithelial dynamics in physiology and disease.
https://www.izi.uni-stuttgart.de/en/research/clark/
@_andrewgclark
The lecture will take place:
Tuesday, December 6th, 5 p.m. at the Großer Hörsaal Medizinische Klinik
Zoom:
https://us02web.zoom.us/j/89789389664?pwd=UldJMUxHQWZaUTcwdDJkRVlXVmZEdz09
Meeting-ID: 897 8938 9664
Kenncode: 308915
We hope to see you all there!
Nisar Malek and Mathias Heikenwälder