Information about the outpatient stay
Contact and appointment
Contact with outpatient clinics and scheduling of appointments for outpatient stays.
Learn more
Login via terminal
Registration via terminal
Registration for patients of the Eye Clinic and the ENT Clinic takes place via a registration terminal, which you will find to the left of the main entrance.
Level 3
Please register as follows:
Selection of the application
Please press the applicable category on the screen. You will receive a number for further registration.
Locate the record switch
Please wait until your number is called and then go to the indicated receptionist [counters 1-7].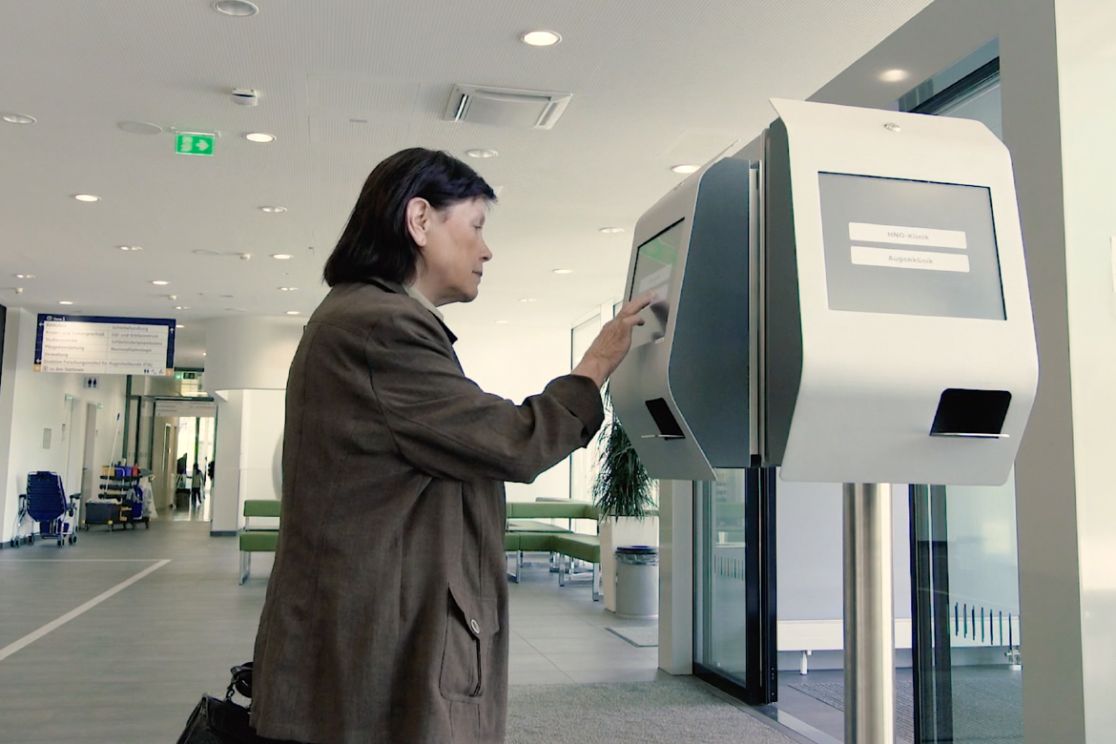 Patients in private consultations
Please contact directly the head office of the private consultation hour which was named to you when you made your appointment.
You will find the private consultation hours on
Level 3 and Level 5
Course of treatment
Course of treatment
Registration
After registration, you will contact the corresponding outpatient clinic or special consultation hour. This is followed by a preliminary examination, which may take some time.
Preliminary investigation
During the preliminary examination, a unilateral or bilateral dilatation of the pupil (mydriasis) is often induced by means of eye drops to improve the examination of the fundus of the eye. It is advisable to use public transport or to bring a companion, as you are not allowed to drive a vehicle in the event of diagnostic pupil dilation. If necessary, the preliminary examination is followed by more differentiated examinations and possibly treatment.
Consultation
Finally, a consultation will be held. In this context, you will receive all the information about the further procedure.
Stay on site
Stay on site
We like to cater to the individual needs of each patient. This requires time and can lead to longer stays in the eye clinic. The timing of your examinations is tailored to you individually.
The order in which you are called for your examinations does not correspond to your arrival at the clinic.
Consultations and outpatient clinics
Orientation on site
Information for orientation in the building.
Learn more
Outpatient Surgery Center
The Outpatient Surgery Center is located in the Eye Clinic on

level 4

After leaving the elevator, please go through the glass door past the information desk of the macular/refractive consultation to the right. The corridor leads you directly to the information desk of the outpatient surgery. Please register here.
Inpatient appointments
Inpatient appointments
As a general patient, you can make inpatient appointments at the ZBM | Zentrales Belegungsmanagement. Appointments for private patients are not made via the ZBM but via the private consultation hours.
Certificates and Associations Focus: Top Nationales Krankenhaus 2023

Kooperation für Transparenz und Qualität im Gesundheitswesen

Qualitätspartnerschaft mit der PKV

Erfolgsfaktor Familie

Die Altersvorsorge für den Öffentlichen Dienst