Information about the inpatient stay
Contact and appointment
Contact with the wards and scheduling of appointments for inpatient stays.
Learn more
Login via terminal
Registration via terminal
Registration for patients of the Eye Clinic and the ENT Clinic takes place via a registration terminal, which you will find to the left of the main entrance.
Level 3
Please register as follows:
Selection of the application
Please press the applicable category [Inpatient, if necessary OP today] on the screen. You will receive a number for further registration.
Locate the record switch
Please wait until your number is called and then go to the indicated receptionist [counters 1-7].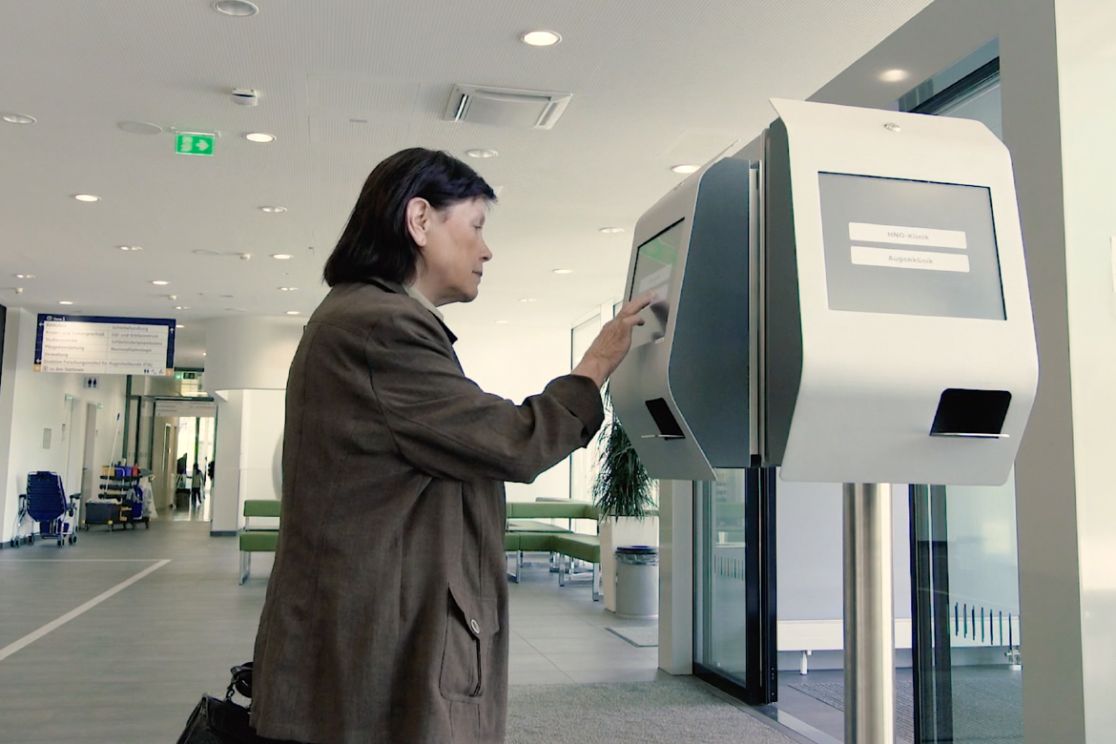 Patients in private consultations
In-patients of the private consultations please also draw a number by terminal and register first via the admissions [counters 1-7].
Inpatient stay
Inpatient stay
On the respective wards, your stay will be individually planned and accompanied. We would like to respond to the individual needs of our patients. This requires time and can lead to different time sequences.
On the day of admission, the order in which you are called for your medical admission examination and your nursing admission interview does not correspond to your arrival on the ward.
Please bring washing and grooming utensils, towels, nightwear, dressing gown and slippers for your stay. You should leave larger amounts of money and valuables at home.
Please bring a current doctor's prescription schedule, medical records, their allergy passport, vaccination card, and caregiver certificate if applicable.
Glasses, walkers and wheelchairs should be brought along.
If you plan to take your medications independently, please bring them in their original packaging and a current prescription schedule and doctor's insulin injection schedule, if applicable.
To ensure your usual care, a nursing transfer report and the presence of a relative or caregiver is useful.
Individual dietary requirements, food intolerances and diets are taken into account during your stay.
Cafeteria and prayer room
Cafeteria
The cafeteria is easily accessible on level 3 from the entrance area of the clinic and is located in the immediate vicinity of the general outpatient clinic.
Prayer room
The University Eye Hospital Tübingen has a prayer room.
Level 3
Please cross the cafeteria to reach the prayer room.
Information about events in the prayer room can be obtained from the chaplaincy.
Certificates and Associations Focus: Top Nationales Krankenhaus 2023

Kooperation für Transparenz und Qualität im Gesundheitswesen

Qualitätspartnerschaft mit der PKV

Erfolgsfaktor Familie

Die Altersvorsorge für den Öffentlichen Dienst