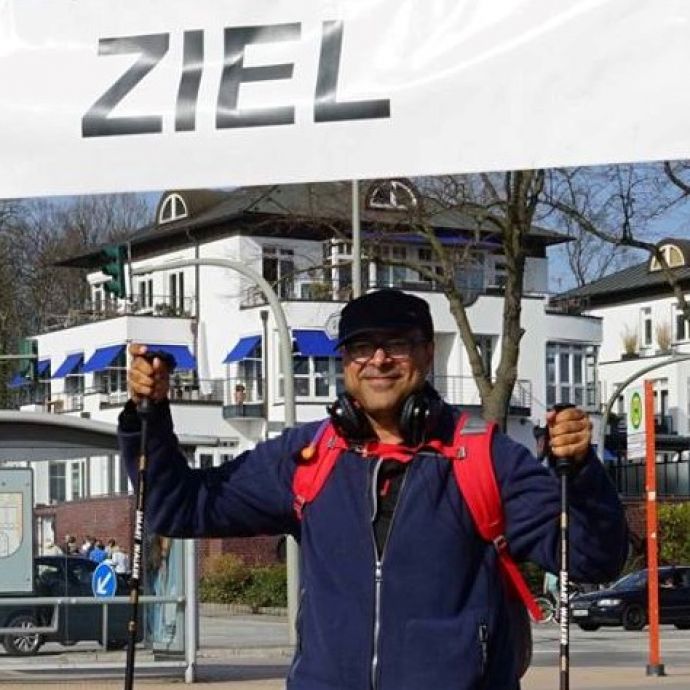 Dr. Sandeep Grover
Postdoctoral Scientist
"Logic will get you from A to B. Imagination will take you everywhere"

Albert Einstein
Kontakt
Telefonnummer: 9am-5:30pm CET: 07071 29-75909
Faxnummer: 07071 29-5075
E-Mail-Adresse: sandeep.grover@uni-tuebingen.de
Klinik / Institut / Zentrum
PRIMARY EXPERTISE
Epidemiology (Non-commnicable/ Communicable diseases)
Biostatistics (Population/ Molecular)
Disease genetics (GWAS/ NGS/ Genetic testing)
Pharmacogenetics (Candidate gene)
Brain diseases (Neurological/ Psychiatric)
SECONDARY EXPERTISE
Infectious diseases and Vaccinations (Surveillance/ Surveys/ Outbreaks)
Obstetrics and Gynecology (Preterm-birth/ Racial disparity)
Sports medicine and nutrition (Biofeedback/ Food biochemistry)
Cancer (RCTs)
Molecular Immunology (Interleukins)
Heart diseases (Genetic epidemiology of HF/ CAD)
Dental research (Infection/ Treatment)
Clinical researcher/ Epidemiologist/ Geneticist/ Biostatistician/ Molecular biologist

Being a biologist with a statistical and epidemiological background, I have been actively involved in studying the influence of genetics on disease and drug response in human populations. I have now gone from specific to the general, and my interest in the field is deep, abiding and long term. My primary interest includes the use of genome-wide association study, polygenic risk score analysis, genome sequencing and Mendelian randomization to unearth causal association of biomarkers with neurodegeneration. As a secondary interest, I also have profound knowledge and expertise in the application of epidemiological methods and tools in the field of infection biology, gynaecology, cancer biology and nutrition science. As a person, I am a firm believer in open science, collective intellectual growth, and freedom of expression. I believe, learning is a life-long process and every individual has the potential to contribute to science, subject to availability of guidance and support.

Researchgate profile
2019-2020

Postdoctoral scientist (Geneticist), Institute for Clinical Epidemiology and Applied Biometry, University of Tübingen, Tübingen, Germany

2016-2019

Postdoctoral scientist (Biostatistician), Institut für Medizinische Biometrie und Statistik, University of Lübeck, Lübeck, Germany

2013-2015

Postdoctoral scientist (Epidemiologist), Charité University Medical Center, Berlin, Germany

2008-2013

Doctoral student (Clinical/ Pharmacological / Genetics research), Institute of Genomics and Integrative Biology (CSIR-IGIB), Delhi, India

2006-2008

Senior research Fellow (Indian Genome Cosortium), The Centre for Genomic Applications (TCGA), Delhi, India

2004-2006

Junior research Fellow (Experimental/ Animal model research), National Centre for Biological Sciences (NCBS), Bangalore, India

2002-2004

Master of Science (Molecular Biology and Biochemistry), Guru Nanak Dev University (GNDU), Amritsar, India

1998-2002

Bachelors of Science (H) (Zoology), Delhi University, Delhi, India
RECENT PUBLICATIONS
PEER-REVIEWED
Grover et al. Replication of novel Parkinson's locus in European ancestry population. Movement Disorders 2021. (JCR 2019 IF: 10.33). PMID: 33760272.
Grover et al. Risky behaviors and Parkinson disease: A mendelian randomization study. Neurology 2019. (JCR 2019 IF: 8.77). PMID: 31527283.
Grover et al. Evaluating the current state of Mendelian randomization studies: a protocol for a systematic review on methodological and clinical aspects using neurodegenerative disorders as outcome. Systematic reviews 2018 (JCR 2019 2.48). PMID: 30249280.
Grover et al. Mendelian Randomization. Methods Mol Biol. 2017. PMID: 28980266.
Domenighetti et al. Dairy Intake and Parkinson's Disease: A Mendelian Randomization Study. Movement Disorders 2022. (JCR 2019 IF: 10.33). PMID: 34997937.
Domenighetti et al. Mendelian Randomisation Study of Smoking, Alcohol, and Coffee Drinking in Relation to Parkinson's Disease. J Parkinsons Dis. 2021. (JCR 2020 IF: 5.5). PMID: 34633332.
Wankhede et al. 2021. Left Upper Lobectomy for Lung Cancer as a Risk Factor for Cerebral Infarction: A Systematic Review and Meta-Analysis. Lung. 2021. (JCR 2020 IF: 2.58). PMID: 34570282.
Rajan et al. Genetic Architecture of Parkinson's Disease in the Indian Population: Harnessing Genetic Diversity to Address Critical Gaps in Parkinson's Disease Research. Frontiers in Neurology 2020. (JCR 2019 IF: 2.89). PMID: 32655481.
Guin et al. Global Text Mining and Development of Pharmacogenomic Knowledge Resource for Precision Medicine. Frontiers in Pharmacology 2019. (JCR 2019 IF: 4.22). PMID: 31447668.
NON-PEER REVIEWED
Grover et al. A bi-directional Mendelian randomization study of glycemic and anthropometric traits and Parkinson's disease. BioRxiv 2020.
Grover et al. Bidirectional Mendelian randomization analysis of shared genetic signals between coexisting neurodegenerative disorders to decipher underlying causal pathways. BioRxiv 2019.
Grover et al. Role of educational attainment, cognitive performance and intelligence in neurodegeneration: a bidirectional Mendelian randomization study. BioRxiv 2019.
Grover et al. Sleep, pain, and neurodegeneration: A Mendelian randomization study. MedRxiv 2021.
EVENTS AND LECTURES
COURSE (sample): Applied Multivariable Analysis (2017/2018) for Masters, IMBS, Luebeck (Outline: https://www.dropbox.com/s/tukrid8vdxuca2g/Overview_Masters.pdf?dl=0)
SEMINAR (sample): Quality control of GWAS (Material: https://www.dropbox.com/s/7d0z9hvipufx8t1/QC_GS_2.pdf?dl=0)
WORKSHOP (sample): Mendelian randomization (Material: https://www.dropbox.com/s/kf9381mrfri1kel/MR.pdf?dl=0)